MUSIC DEPARTMENT
Inspirational Choir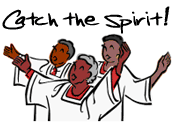 "Bless the Lord, O my soul: and all that is within me, bless his holy name."
Psalms 103:1
Choir Director
Sister Debra Datcher
Choir President
Sister Florice Gilchrist
Musicians
Sister Deanna Easley
Brother David G. Powell
Brother Duane Harris (bass player)
The Inspirational Choir sings to Glorify God and Ministers through song the Good News of Jesus Christ.
The Choir serves 1st Sundays at the 7:30 a.m. and 10:30 a.m. Worship Services. It also renders musical support to Baptismals, other special services and programs.
New members are welcome! If you have a talent to sing, please join us. Rehearsals are on Wednesdays at 7:30p.m. to 9:00p.m.