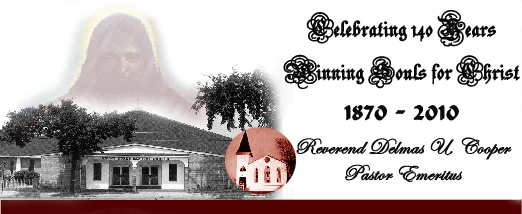 OUR MISSION
And Jesus came and spake unto them, saying,
All power is given unto me in heaven and in earth.
Go ye therefore, and teach all nations,
baptizing them in the name of the Father, and of the Son, and of the Holy Ghost:
Teaching them to observe all things whatsoever I have commanded you: and, lo, I am with you alway, even unto the end of the world. Amen.

Matthew 28:18-20

"GO QUICKLY
AND TELL"
Matthew 28:7
The angel spoke these words to the women who had come early to the sepulchre. They were told to "go quickly and tell" the disciples that Christ had risen from the dead.
They were told to "go." "Go" and tell someone the good news about Christ. We could go next door to our neighbors. We could visit someone who is sick and suffering. And our going could mean salvation and blessing to those in need.
The angel also said "go quickly." The urgency of the hour tells us that we have no time to waste in sharing the gospel message. The coming of the Lord draws near. World conditions are a daily reminder that the time of His coming is not far off. Christians must move quickly in the Lord's work and reach as many as possible with the message of the gospel.
"Go quickly and tell."
The message of Christ is the best news the world will ever hear.
Pastor Emeritus
Delmas U. Cooper
---
HOME | THIS MOUNT : TAKE, EAT : SPIRITUAL GIFTS : GIVE, RECEIVE : CONTACTS
---